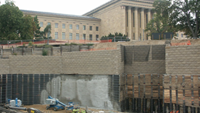 Permanent Wall Project – Art Museum of Philadelphia Parking Garage
Permanent soldier beam and lagging wall for a proposed underground parking garage and support for the surcharge pressure from a 30 feet high MSE wall. Client: JPC Group, Inc.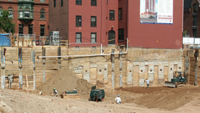 Underpinning Project – Symphony House
Temporary excavation support and underpinning for center city condominium at Broad and Pine Streets.  Client: D'Angelo Bros., Inc.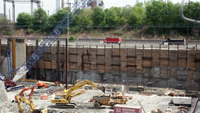 Temporary Sheeting Project – Children's Hospital of Philadelphia
Temporary earth and rock support systems for a building excavation of up to 72 feet, Philadelphia's deepest building excavation.
Client: AP Construction, Inc.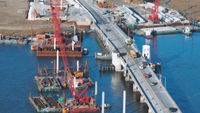 Cofferdam Project – Rt 52 Causeway
Peirce Engineering designed 69 steel sheet pile cofferdams – on land and in open water with depths up to 40 feet – and 3 steel sheet pile bulkheads for the NJDOT Rt. 52 Causeway connecting Somers Point and Ocean City, New Jersey. Client: Route 52 Constructors.