Safe, buildable, and cost-effective engineering designs for construction of roads, bridges, and buildings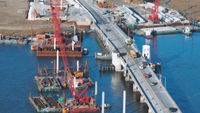 Cofferdam Project – Rt 52 Causeway
Peirce Engineering designed 69 steel sheet pile cofferdams – on land and in open water with depths up to 40 feet – and 3 steel sheet pile bulkheads for the NJDOT Rt. 52 Causeway connecting Somers Point and Ocean City, New Jersey. Client: Route 52 Constructors.
Safe, Buildable, and Cost-Effective Designs
For over twenty-five years, Peirce Engineering's work has had an impact on the construction of roads, bridges, and buildings throughout the Mid-Atlantic region. From pile load tests to temporary sheeting and permanent walls, Peirce Engineering has played a role in the construction of nearly every university in Philadelphia, colleges throughout the Northeast region, all major expressways and hospitals, and countless roadways and bridges.
What sets Peirce Engineering apart is our expertise. Since our beginning in 1992, our team has designed approximately 2,000 civil-construction structures. We have hands-on experience with all phases of the design-build process. Because we have previous experience building the many structures we design, we're able to offer effective solutions to the many construction challenges you face.
Where other firms may complete several designs per year or career, we complete several designs per week. With this experience comes an ability to engineer designs that are not only safe, but are economical to build.
News
John J. Peirce Named 2019 Delaware Valley Engineer of the Year
February 2019